Slots-Guru.com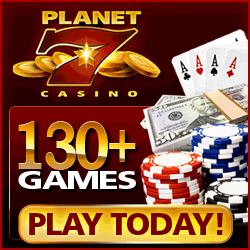 Hi! Welcome to George the Slots-Guruís web site. Iím going to graciously share with you my vast knowledge about internet slots and slot machines. Iíve been around for a while and Iíve seen a lot, so you know my advice will serve you well when you decide to head out to the casinos or play some internet slots from home. Also, you can if want some answers that I missed out on. If youíve ever had a lesson from the Guru before, you know that you should sit back and take it easy and take some notes too. If this is your first time, pull up a chair, grab a notepad, and listen up! You might also want to visit some of my other sites. If so, you can find the links to them in the bottom left corner of every page. Here we go!
Now internet slots havenít been around all that long. This is coming from a guy who saw the original Star Wars movie when he was in his 30ís! It wasnít until the 1990ís that internet slots game along, but the original game has been around even longer than me! It all started in 1887 when Charles Fey, a San Francisco car mechanic, made the first slot machines in his garage at home. They were manufactured by hand and rented out to the local gambling houses. Originally, the symbols were standard playing card suits - hearts, diamonds and spades- along with bells, horseshoes and a star. That is until 1907, when Herbert Stephen Mills, a Chicago manufacturer of arcade-type machines, began producing a machine similar to Fey's (there are those that think he stole one in order to copy it). This one was the first slot machine to use the familiar symbols of bars, bells, oranges, lemons, plums, and cherries. This doesnít seem like much, but on the internet slots of today there can be upwards of 100 different symbols.
Slot machines and internet slots have become so very popular because they can be played at your own pace and require no skill. In the olden days the machines were simple three reel machines with each reel containing 20 symbols. Thatís the most important feature in older slot machines; the number of reels and the number of symbols. The fewer the number of reels and symbols, the easier it is to get a winning combination. With internet slots, of course, itís all computer controlled, so youíre up against a whole different type of machine.
There are basically two different types of slot machines; flat rate and progressives. Flat rate machines will always pay off the same amount, and progressive machines have a jackpot that keeps increasing as you insert coins, and reaches its maximum when you hit it (the jackpot, I mean, not the machine itself!). This is the same for internet slots and casino slots alike. As far as the actual payouts go, most slot machines are set to pay between 80 and 99 percent of the amount inserted. Internet slots tend to have a higher payout percentage. After all itís cheaper to run some gambling software than to maintain hundreds of slot machines in a casino.
Well, thatís it for me (on this page at least). I hope you kept your ears open and kept some good notes. Remember that thereís lots more to learn from me. There are plenty of pages to look through, so stick around, and soak up the knowledge of the Guru. Thatís what Iím here for!
Don't forget to check out this list of upcoming Slots Tournaments! It's a chance for some great fun, with the possibility to win a bit of cash too.
Why a casino download could be Australia's best option for online slot machines and more
If you are one of the many Australian gamblers who cannot get enough of slot machines, then choosing an Australian online casino with a casino download option could be the key to your happiness. You will get instant access to all your favourite slot machines at the click of a button. All it takes is a few minutes and you will be ready to play.

The sign-up process is pretty easy and all you will need to supply is you basic personal details. From here you just activate the casino download and install the software. You will now have access from your desktop to all of your favourite casino games including blackjack, roulette and of course slot machines. To begin with, you will only have access to the free casino. You will need to deposit some real cash from a bank account or credit card to start playing for real money.

The banking process is made a whole lot easier with up to thirty options to choose from. You can use credit cards, online banks and even virtual accounts. The one thing to remember is that however you fund your account is the same way you will have to make withdrawals. If you start to win beyond what you first deposited, then you should be able to switch over to another payment method with no hassles other than clicking a button.