Slot Machines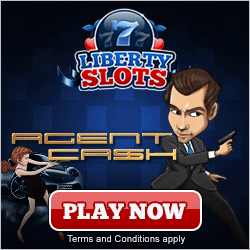 Hi there. I'm glad you decided to join me here on my page all about slot machines. My name is George. You may already know that, and you might even be comfortable enough to call my Guru. The choice is yours. I invite you to pull up a chair and get out your notebook, in order to take advantage of all my knowledge on slot machines. I'm called the Guru because I have a wealth of knowledge to share with all who choose to follow the path to gambling enjoyment.
As you may already know, slot machines have been around for quite some time. They weren't the first gambling machines, but they were the first to really take off in popularity. Way back in the late 1800's a smart and mechanically inclined fellow named Charles Fey invented what we know as the slot machine. He worked away at it in his own garage, and continued to build them by hand, with the help of others for quite a while. Now you must know that it takes a bit of a mechanical genius to come up with something like this, right? Well I said he was smart too. He not only invented slot machines, but he know how to make loads of money from them as well. What he did was rent the slot machines to the local gambling houses in San Francisco, and charged 50% of the money inserted. That way, the gambling house owners knew that if they wanted to make more money from them, they'd have to promote their use. Of course old Charlie there made more money too in the process.
Back when slot machines first became a staple of the gambling house, it cost a penny a pull to. And get this: when you won, you didn't get back a bunch of pennies from the machine, you got free drinks from the bar! I don't think that practice lasted too long though because you can see that a lucky slot machine player would end up getting pretty drunk pretty fast, and after a little while he just wouldn't be able to play anymore. That's why they started paying out the winnings in the very coins that had been inserted into the slot machines. Nowadays, the payouts can be in the millions of dollars at some of the big progressive slots in the big casinos. You can find out a bit more about them on my progressive slots page.
I guess that's about it for this lesson. I'm glad you chose to stick around and hear me out. Now you're free to go out into the world and make use of the knowledge you've gained from the Guru. Or… you could hang around for a little longer, and browse some of the other pages I've laid out for you here at the home of Slots Knowledge, Slots-Guru.com.